2016 Executive Briefing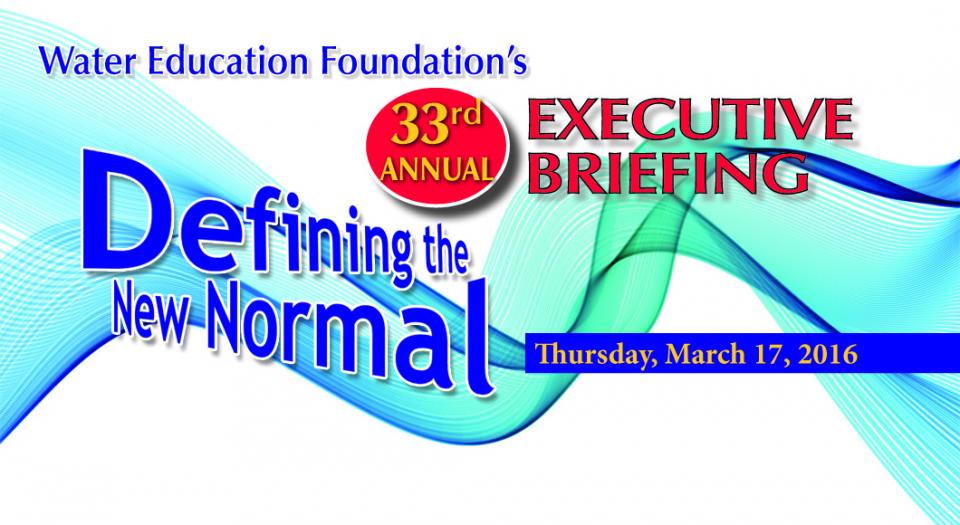 The Water Education Foundation's flagship event, the 33rd annual Executive Briefing, was held March 17, 2016 in Sacramento. The theme was "Defining the New Normal."
This is the go-to conference for water district managers and board members, state and federal agency officials, city and county government officials, farmers, environmentalists, attorneys, consultants, engineers, business executives and public interest groups.
Confirmed speakers included State Water Board Chair Felicia Marcus and California Natural Resources Secretary John Laird.
At this one-day event, top policymakers and leading stakeholders provided participants with the crucial information they needed on:
Thriving During Climate and Water Change: Strategies for the 21st Century
Living with the New Normal: El Niño, Water Supply Realities and Continued Conservation Mandates
Investing in the Future: Breaking Ground on Funding Sources
One Year Later: Implementing the Sustainable Groundwater Management Act
State of the Delta: Tunnels, Habitat and More
What participants said about last year's briefing:
"I really enjoyed the diversity of viewpoints on the panels, very engaging and thought-provoking to hear so many ideas/solutions/interpretations."
"Very well organized, excellent speakers, non-partisan, well-rounded."
"WEF is a great organization and I was happy to see the silent auction with a wide selection of fun items that people could bid on – more fun than just writing a check."
The Briefing ended about 5 p.m. and was followed by a reception where attendees had a chance to network with speakers and other attendees. This 2016 reception was sponsored by Downey Brand.
In addition, we hosted a silent auction to benefit our Water Leaders program. Items up for bid included lunches with key people in the water world, hotel stays and wine baskets.