Western Water: A 'Slow Road' to Progress?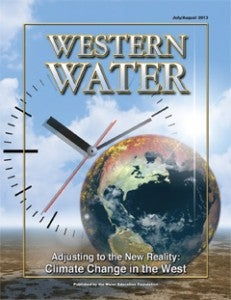 The Water Education Foundation's July/August 2013 issue of Western Water looks at climate change through the lens of some of the latest scientific research and responses from experts regarding mitigation and adaptation. Read more from the issue written by Gary Pitzer:
Climate change will continue to have its skeptics, and politics aside, there have always been extreme weather events that preceded the mass introduction of GHGs into the atmosphere, a point referenced by President Obama in his speech.
Even though the climate of the Southwest is "highly variable across space and over time" because of ocean-land contrasts, mountains and valleys, the position of jet streams, the North American monsoon, and proximity to the Pacific Ocean, Gulf of California and Gulf of Mexico, "there is mounting scientific evidence that climate is changing and will continue to change," according to Assessment of Climate Change in the Southwest United States. "There is also considerable agreement – at varying levels of confidence sufficient to support decision making – regarding why the climate is changing, or will change."
Refining climate data to the extent it is useful to water managers remains a work in progress, said Jeanine Jones, interstate resources manager with the Department of Water Resources. "It's not easy and it's going to be a slow road to progress," she said. "No one is expecting a great leap and a stunning discovery. It's one of things where you are going to do a menu of different things to get incremental improvements."
"Hard choices" exist about the philosophical approach to dealing with climate change, from solutions that are costly, big and centralized to "more decentralized, dispersed actions," such as water conservation and rainwater harvesting, said David Groves, senior policy researcher with the RAND Corporation.
Continue reading by ordering the digital version of this issue of Western Water – check out the free preview below! Or, order the printed copy.