Western Water — 'Adjusting to the New Reality: Climate Change in the West'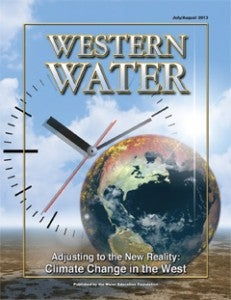 The Water Education Foundation's July/August 2013 issue of Western Water looks at climate change through the lens of some of the latest scientific research and responses from experts regarding mitigation and adaptation.
Like clockwork, the scientific studies describing climate change and its expected impacts keep coming, reminding everyone in an already-dry West of how much the future will differ from the past.
The dispatches from the scientific community echo a familiar refrain: rising temperatures, more rain in some areas, a reduced snowpack (and less water storage) and reduced imported water deliveries. The reports also reveal a level of uncertainty, something water managers in the West have learned to live with.
Water planning in the West has always been a challenge, with regular swings from wet periods to droughts. Factor in the effects of global climate change and ensuring a diversified water portfolio takes on another degree of complexity.
The digital format includes videos, audio interviews, animated graphics and easy-to-access links to the reports cited in the article and related background information. Click here to receive a free preview.
Become an e-subscriber and access the digital version and all the additional content on your desktop computer or laptop. And view the article on your laptop and download the free Water Education Foundation app to view each issue of Western Water in the new interactive format on your iPad or iPhone. Click here to learn more about how to subscribe to this exciting new downloadable digital version of Western Water. Also available on the Foundation's website are excerpts from this excellent article written by Gary Pitzer. Click here to read more!