Swimmers brave dirty Delta for awareness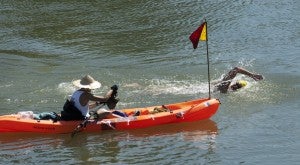 From the Sacramento Bee:
"Seven swimmers swimming, Sacramento to San Francisco.

Tongue twister though it is, the swimmers and their backers hope a 100-mile weekend relay will become a mind teaser, raising awareness about increasing threats from pollution in the Sacramento-San Joaquin River Delta and San Francisco Bay.

"We want to raise the issue of water quality from Sacramento to San Francisco," said Jeff Russell, a member of the sponsoring organizations, the Dolphin Club and San Francisco Baykeepers.

The tough relay will take swimmers through one of the largest estuary systems in the nation. Along the way, the team will swim past everything from abandoned boats to streams and channels tainted with varying levels of industrial, agricultural and urban pollutants.

"I hope there's no health risks for them," said Craig Wilson, former chief counsel for California's Water Resources Board and now a lawyer with the Stoel Rives firm in Sacramento. …"
Read more from the Sacramento Bee by clicking here.