River Report Summer 2013 Now Available!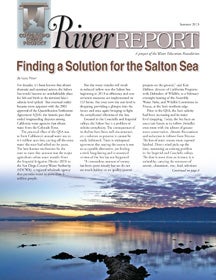 From the Water Education Foundation:
As the reality of the QSA's future impact draws near, a sense of urgency is growing regarding what to do about the future of the Salton Sea.

For decades, it's been known that absent dramatic and sustained action, the Sea would become an uninhabitable place for fish and birds as the terminal lake's salinity level spiked.

This issue of River Report, "Finding a Solution for the Salton Sea," discusses the enigmatic, saline, terminal water body where officials and stakeholder are trying to craft a long-term, viable solution to preserve the Sea's ecological health.

Click here to read the digital, interactive version for FREE. You can also click here to purchase a printed copy for $3.00.

What's Inside the Digital Issue?

Each issue of our digital publications includes videos, audio interviews and easy-to-access links to the reports cited in the article and related background information.

You can read it on your laptop by visiting the Publications page on our website here - OR – download the FREE Water Education Foundation app here to read it on your iPhone or iPad. It's the perfect option for getting your news on the go!

NEW for Android users! The Foundation's app is also available to download for FREE in the Google Play store. Just type "Water Education Foundation" in the search engine and download from there.

For additional information, the Foundation's new Aquapedia, an online water encyclopedia, includes entries on both the QSA and Salton Sea.