Aquafornia news
San Diego Union Tribune
Metropolitan Water District cuts water supplies, increases rates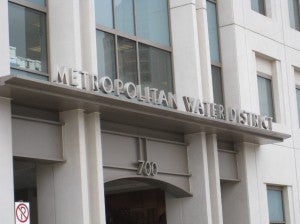 From the Los Angeles Times:
The board of Southern California's major water wholesaler voted Tuesday to effectively cut water deliveries across the region by 10% this summer.

The Metropolitan Water District of Southern California has warned for months that the state's drought and environmentally driven cutbacks in water shipments from Northern California would leave demand higher than the supply. "We're short," said Jeffrey Kightlinger, the water district's general manager.

The cuts are the agency's first since the early 1990s drought.

The Metropolitan Water District, which imports water from the Sacramento-San Joaquin delta and the Colorado River and sells it to local water districts, will achieve the reductions by imposing penalty rates. Local utilities that use more than their allocation will have to pay more.

In anticipation, Los Angeles is poised to adopt conservation rates aimed at getting residents to reduce their water use by 15%.
More from the Los Angeles Times by clicking here.
Extensive coverage from the San Gabriel Valley Tribune:
The MWD board of directors also voted to increase water rates by 20 percent this year, and plan to raise them by as much next year. The actions mark the first time since 1991 that imported water has been rationed and the first time in since 1993 that rates have increased so dramatically.

"Today is really a historic day, it is a day many of us hoped we wouldn't come to," said board chairman Timothy Brick, who represents the city of Pasadena on the board. "The challenges we face today are as great as any board of Metropolitan has faced … It represents the end of an era of cheap water."

State officials have so far promised the region only 20 percent of its allocation from northern water supplies. Officials will likely increase this amount in the coming days, but MWD general manager Jeffrey Kightlinger is certain it won't be enough to avoid forced conservation. "It's not going to fundamentally change the situation," he said.

Though statewide snowpack is at 81 percent of normal, the cumulative effects of dry conditions in the state and the West in recent years have left reservoirs severely depleted.

MWD's reservoirs are about half what they should be. If water use continues as it has, without the mandatory conservation approved Tuesday, and dry conditions persist, MWD would have enough water in storage to last two years. With the allocation plan, the agency extends the storage supply an additional year, if it is not replenished.

"We don't know if we are in the third year of a 3-year drought, or the third year of a 15-year drought, like in Australia," said board member Keith Lewinger, who represents the San Diego County Water Authority.
Read more from the San Gabriel Valley Tribune by clicking here.
The rate increase includes a surcharge that could be dropped if conditions improve in the Delta, according to the O.C. Register:
Larry Dick of the Municipal Water District of Orange County, also a Metropolitan board member, said it was important to members of the Orange County delegation on the board to include the surcharge so they could "sunset\" the charge if environmental issues surrounding the endangered fish, the delta smelt, are resolved.

"The delta smelt this past month cost us 70,000 acre feet of water,\" Dick said of a supply reduction over a 10-day period for the 19 million people who receive water through Metropolitan.

An acre foot is enough to supply two typical homes for one year.

He also said consumers in Orange County would be unlikely to see such a high increase on their water bills. In north and central county, which relies in part on the deep underground aquifer for drinking water, rate increases would be more likely in the single-digit range, although individual water agencies will decide on rate increases and other measures.

Rate increases could be higher in Southern Orange County, which depends almost entirely in imported water and has no deep aquifer.
More from the O.C. Register by clicking here.
From the San Diego Union Tribune:
In light of Metropolitan's cutbacks, the San Diego County Water Authority is expected to move from drought response Level 1 to Level 2 at its meeting on April 23.

One of the most common countywide restrictions for Level 2 is restricting outdoor irrigation to three days a week during the summer and to 10 minutes per irrigation station. In nine districts, it also means not providing new water service connections : a measure that officials try hard to avoid because it's a damper on business.

San Diego city, by far the largest water agency in the region, had spent months developing a different conservation strategy: a water budget for each property based on prior use. Under that plan, residents would be ordered to cut consumption by the equivalent of 45 percent outdoors and 5 percent indoors. They could largely choose how to use the water allocated to them.

The San Diego concept is controversial and complicated, but the city's water leaders said it's needed to force consumption down by 20 percent, the target that seemed likely early this year.

With the goal now much lower, Sanders said Tuesday that personal water budgets likely can be avoided in the near term.

"If we can achieve (conservation) through some behavioral restrictions, like watering on certain days or going out to educate people more aggressively, then we can probably meet that without the same water allocation model we have,\" he said.
More from the San Diego Union Tribune by clicking here.