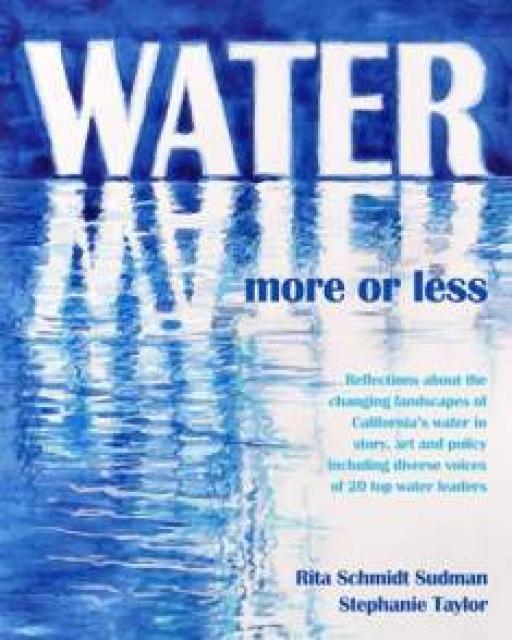 Water: More or Less
Published 2016 – Paperback
California's water policy is changing in dramatic ways. Droughts, floods and water quality issues cast harsh light on how we use water in our lives, our agriculture and our environment. This book tells how we got to this point and provides solutions. 
Co-authored by the Foundation's former executive director and long-time observer of the California water scene, Rita Schmidt Sudman, this book captures the historic water conflicts, moments of change and offers solutions for the future. Written with co-author artist and essayist Stephanie Taylor, the authors visually and verbally cover water in three dimensions – art, history, and stories of real people. Twenty diverse top water policy leaders, including the Foundation's current executive director, Jennifer Bowles, also add their voices by contributing personal thoughts and answers for the future.   
Hear directly from Rita about her book in this short video and view a preview here.
8"x10" 240 color pages including original photos and art. 
Only copies ordered through the Foundation are autographed by the authors. When ordering, please specify under "special instructions" if you would like the note by Rita to specify a certain person, agency or district, or if you just want an autograph by Rita.
Please allow 3 weeks for delivery.
Discount prices are available for orders of 5 books or more:

$45 each for 5 to 9 copies
$40 each for 10 copies or more.
To order multiple books, email Patty Wong at the Foundation here.